Rent, get on and take off – tour the "Idsteiner Land" on a Pedelec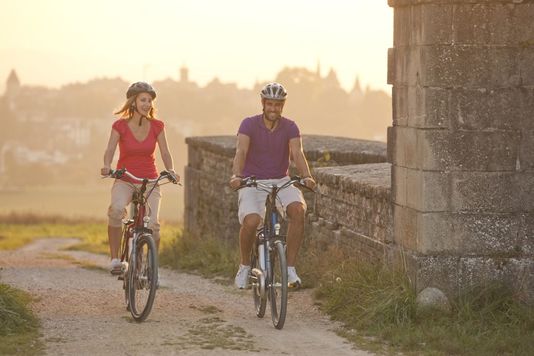 Image: movelo
Discover a whole new dimension of vacation quality when you ride a Kalkhoff Image Move Pedelec.
Visit the sights, take in the spectacular views and cultural highlights in and around Idstein while experiencing the most enjoyable bike ride you've ever had.
Your pedaling is assisted by an added battery-powered electric motor. This makes covering longer distances and even riding up steep mountain roads easy.
Depending on route conditions, a single battery charge should be sufficient for 50 to 100 km.
For safety reasons, we recommend you bring your own bicycle helmet.
Pedelec Rental Information:
Rental Station:
Hotel Felsenkeller
Schulgasse 1
65510 Idstein
06126 / 9311-0
www.hotel-felsenkeller-idstein.de
Rental Rates:
24 € / 4 per hour
30 € / day
55 € / 2 days/weekend
75 € / 3 days
each additional day 20 €
150 € / week
Pedelecs available:
4 Kalkhoff Image Move E-Bikes
Open:
April – October
Battery change:
no
Battery charger:
available