Enjoy your very own guided city tour!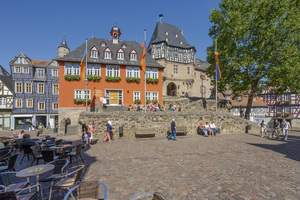 Get the real taste of the Old Town of Idstein: come with us to the group of buildings forming part of the original castle or to the Witches Tower. Have a look on the impressively reconstructed half-timbered houses or on the Protestant Union Church with its wonderful canvas paintings of biblical scenes in the Rubens school style. Listen to ancient legends, anecdotes and tales
Contact us and let us know your preferred date! We will be happy to arrange your tour immediately - as well in French or German!
Admission:
English
65.00 € / up to 30 pers.
French
65.00 € / up to 30 pers.
German
55.00 € / up to 30 pers.
(Witches' Tower up to 20 pers.)
Opening hours:
Tuesday and Wednesday
08:00 - 12:00 am + 2:00 - 5:00 pm
Thursday and Friday
08.00 - 12.00 am + 2:00 - 6:00 pm
Saturday
11:00 - 4:00 pm
On Sundays and bank-holidays
2:00 - 5:00 pm
closed on Mondays
From March to October on Saturdays, Sundays and Holidays you have occasion to attend a public guided tour (only in German language). The dates can be found on our
homepage
.